Delivery
Free delivery on orders over £100
Price match guarantee
We will match any like for like offer
Collect
Free in store click & collect
Co-created with medical experts to relieve symptoms of colic, reflux and digestive discomfort
Breathable organic cotton super soft fabric
Expert-designed: Co-created with a French Paediatric Osteopath
Adjustable leg roll: Reduces symptoms of colic and reflux

Baby lounger for home and away: non-restrictive to soothe, settle + support
Built-in flat-head pillow: Promotes a well-rounded head and reduces the development of flat head syndrome.
Approved safe for supervised sleep until baby can roll over unaided
Flat head solution
Co-created with a French paediatric Osteopath Cosydream is the bestselling baby support recommended for use straight from birth and designed to help transition baby from the womb in their first 3 months.
Thanks to subtle supports in a non-restricting position, Cosydream's ultra-soft, breathable shell provides a reassuring space for baby – mimicking the security of being inside the womb.
Cosydream's built-in head pillow offers a subtle yet unique cushioning to baby's skull to combat plagiocephaly (flat head syndrome) and encourages the development of a desired rounded shape.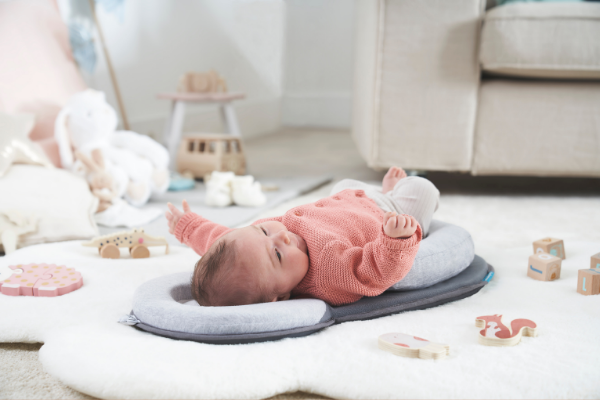 Colic and reflux solution
The leg support roll is detachable and adjustable as baby grows, which fractionally raises baby's legs in a more comfortable position. The elevation of the legs helps to prevent reflux while creating the ideal back position and discourages any strain on the stomach muscles that might occur if baby's legs were completely flat.
About us
Here at Bambinos And Beyond we are an independent, family run Father & Daughter duo Shannon & Chris helped by brothers, in laws and wider family.
Since opening our doors in 2014 selling only children's toys, we have since taken baby steps within the nursery industry moving from strength to strength to ensure we provide the best brands at affordable prices. Our goal is to ensure every parent, grandparent, friend or family member to be are able to find their dream baby items to suit each individual budget.
Unlike most nursery retailers we specialize in both new and pre loved items, this allows our customers to choose from a wide selection of low and high branded prams and more. All of our pre loved items are carefully selected and sent to our professional team of cleaners who then fully strip all fabrics, steam clean, restore any wear and tear and once its had a new lease of life we then offer to our customers that may want a high end item but don't want to pay full retail price.
As well as refurbished items we offer a wide selection of new items taking you right from baby through to toddler and beyond. Our product range is sure to accommodate all your needs from Strollers, Travel Systems, Co sleepers, Bedding, Nursery Furniture, Highchairs, Teething accessories, gifts & more.
We understand getting everything for your new arrival can be expensive, to help with this we offer a wide range of payment plans & finance options, as well as this we offer bundles based on your affordability.
We pride ourselves in going above and beyond and providing excellent customer service throughout your experience with us. We offer 1-1 demonstrations in store with an expert member of the team ensuring you find exactly what you're looking for.

Representative Example: Cost of Goods £915, Deposit £15, Amount of Credit £900, Annual Fixed Interest Rate 53.30%, Weekly Payment £14.22, Term 104 weeks, Total Payable £1493.88, Representative 69.9% APR. MK8 0AB. Subject to status. T&Cs apply.